I've been thinking a lot about the life of a Creative. It's something new to me that ebbs and flows in ways I didn't realize was normal to this path in life. Extreme "highs" of feeling inspired, feeling like your work makes a difference, that you're amazing at what you do. And then, the extreme "lows". That feeling of your work being crap, you'll never arrive, everyone else is doing so much more and better than you. And no one told me you'd feel the "lows" more often and more strongly than the alternative.
I thought I'd seek some wisdom from some of you other creatives to see how you live in your craft. What keeps you going.
This is a short story about Derrick, who started visualizing tiny moments from agency life using tiny people in clever settings with clever captions. Do yourself a favor and take a look at some of his work before you watch and hear him talk about it: his Instagram page is fascinatingly humorous.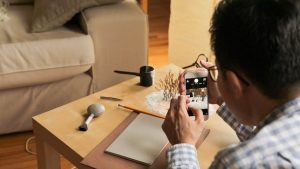 Takeaway points for you:
Be confident in your work and your vision
It's all about your personal touch
You can overcome intimidations
Do your work for YOU
On a technical note, I wanted to mention that this is all filmed in natural light. I did that to mirror how Derrick approaches his photography. He looks for that hard light from open windows, so I figured it was only fitting to match his style for his story.